The relationship between the Dalle family and flax started 300 years ago along the Lys River. Every generation of the Dalle family has been involved in the flax industry and has developed an engrained passion for it. SANECO is the result of this passion.
SANECO, a family company which has become the lead player in the flax industry
Experts in flax for over three centuries, SANECO's history began in 1950 when Gabriel Dalle set up a company specialising in sourcing flax. Two years later, he started traveling around Eastern Europe and Egypt, looking to conquer the world.
In 1978, the goal of conquering the world over was still in full swing and now expanded to China. Our CEO, Benoît Dalle, traveled to the Far East, hoping to build partnerships. It is the beginning of a business relationship with China.
The company then continues its expansion by opening an office in Beijing in 1998, followed in 2002 by a 5000 sqm logistics centre.
Acknowledging the importance of the Eastern Europe region to the industry and pushed by its pioneering spirit, SANECO sets up a Franco-Lithuanian subsidiary in order to further expand its activity.
In 2005, SANECO opened a logistics centre in the Nile Delta.
SANECO possesses know-how, combined with tradition, modernity and passion. The company has rapidly developed a global approach and gained invaluable experience over the years. This has resulted in products, which are made of fibres sourced from the best manufacturing locations, guaranteeing quality, a competitive price and traceability.
Today, SANECO is one of the oldest companies specialising in flax in France. It is now a benchmark in the flax industry, combining know-how, responsiveness and competitiveness.
SANECO started its trading relationship with China at the start of the Chinese Republic. Today, we carry out two activities from China: a bonded warehouse opened in 2002, which stores and ships raw materials, as well as the running of a trade office, which is in direct contact with the spinners. Based in Beijing since 1998, our office mainly markets short and long fibres, as well as tows from France, Belgium, Belarus and Egypt. With many years of experience in this field, our team of eight experts is in charge of downstream controlling and quality monitoring of our products (threads, linens).

Established in 1992, Eurolinen is a Franco-Lithuanian company, forming part of the SANECO Group. This production site predominantly manufactures flax tows (papermaking, automotive industry, insulation, and fabrics), flax threads (agriculture, ropes and insulation) and flax ropes. Eurolinen also markets other products from SANELIN's range: flax fibres and linen. Our offices are located in Vilnius, across 5000 Sqm. Our team comprises of 40 experts who guarantee the quality of the products and their traceability.

The idea behind creating Golden Nile in 2005, was to expand and guarantee the quality of our fibres. Based in Tanta, Egypt, Golden Nile predominantly sources flax dolls, flax tow for papermaking and fabrics, and flax tow combs. Comprising of four employees, our team is also in charge of following the flax market in Egypt and the Middle East, flax manufacturing in other companies and monitoring the quality of all the products sourced in these regions.
SANECO Group Implantation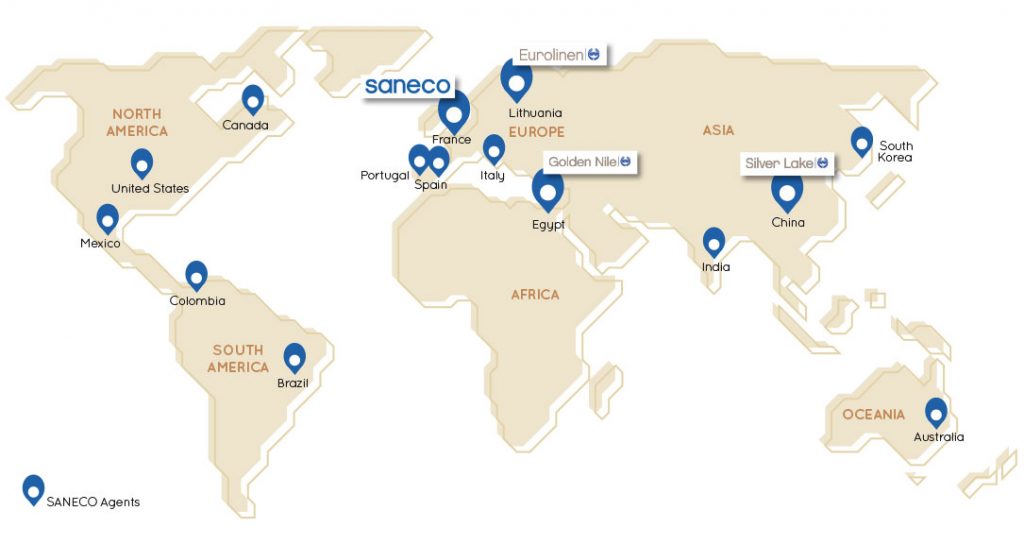 One-of-a-kind, Couture Lin is SANECO's online store selling dyed fabric pure linen. We offer a full range of products from 1.50 to 3.05 meters wide, a large range of colors, fabrics weight and texture.
Couture Lin's aim is to guide you through the purchasing process and offer products with fine fibers, a perfect weave and a splendid dye.
Discover all our 100% linen collections that retail by the metre in a variety of colours and for multiple applications: http://www.couturelin.com/